Sharing our passion

Les ICONOMECANOPHILES du LIMOUSIN, is an association of still camera and movie camera collectors founded in Limoges in 1998. Members come from Limousin, France and other parts of the World. The goal of this club is to spread our knowledge about antique still cameras, movie cameras, photographic methods and photographic history through a quarterly publication (DECLIC), and free exhibitions.
Our slogan :

Sharing our passion ...

When a collection is hid from the public, it becomes only an accumulation of dusty objects without any soul, so we try as best we can to pass on the considerable technical inheritance that the collection contains.
Actually our club members possess more than 5000 cameras of various periods distributed amongst more than 30 collectors, varying from just a few to more than 500 items. Some members collect only still cameras, some only movie cameras and some both types.

New in June. We will publish our first "Cahier de Declic" in ENGLISH about WESTON light meters.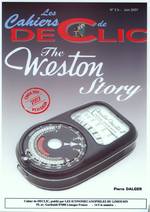 You can now be informed of the news from our web site by subscribing to our newsletter.